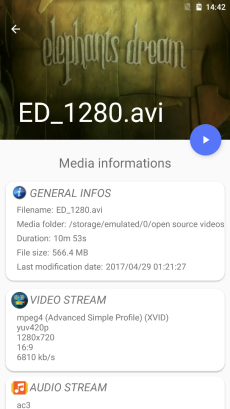 Description
ZIP and archive files are everywhere. So what can you do if you wanna extract (unzip or unrar) them or just create a new one using the files or the folders of your Android device? Then ZipDroid is the archive manager you are looking for!
With ZipDroid you can open archives with ZIP, RAR, 7z, TAR, ecc… formats directly from your default file manager, from your browser, or from its main activity in a very comfortable way. You can browse the internal files of the archive, select them, extract them, open them or even delete them from the zip file. ZipDroid GUI will let you do it in a very immediate way. With this app you can choose, for example, to extract all the files or only some files of the zip file and you can even use its advanced activity to set personalized settings for the extraction process.
Ok, but what if you have to create a zip file instead? Then again ZipDroid is what you need! You can use the default options from the menu to compress files or whole folders in ZIP or 7z formats. If you want instead a better level of personalization for your compressed archive files, you can choose the CreateZip activity that will let you choose the output format, the compression level and method, set a password and even split the output file in different parts.
ZipDroid is just the ultimate archive manager for Android. You'll find it a fundamental tool to use in your everyday experience with your Android device.
The application has been developed with a WYSIWYG (What-You-See-Is-What-You-Get) philosophy. What does it mean? It simply means that ZipDroid comes to you as a complete archive manager, with all the functionalities available and usable by the final user. There are no paid features to unlock and no in-app purchases are required, how other apps do. What you see is really what you get!
Platform: Android, 2.3+
Play Store Link: official
License: free/ad-supported, all features enabled (no pro key required)
Current version: v.2.1a
Other links: bug tracker and forum.
Current version changelog:
v.2.1a - 2016/05/16
- refactoring Settings activity;
- minor fixes and improvements.